Sri K. Pattabhi Jois, was born on July 26, 1915, a day of the full moon, in a small village near Somnathpur in Karnataka in South India. He died on May 18, 2009, at the age of 94.
His father, Krishna Pattabhi Jois, was a well-known astrologer in the service of the Maharajah of Mysore.
After his primary and secondary schooling in 1930 he began studying Sanskrit and Vedic philosophy at the Maharaja Sanskrit College in Mysore. In 1937, he graduated, he immediately went into teaching Sanskrit at the University of Mysore and continued until 1973. He spent another three years teaching at the Ayur Vedic College, and he then retired.
He began studying Yoga in 1927, when he was 12 years old. He then lived with his parents in a small village near Hassan "Kowshek" (Karnataka). During the first three years, he undertook a journey back and forth every day to visit his Guru Sri T. Krishnamacharya, who lived in Mysore at that time (a distance of some 35 km). He received the teaching of his master for 25 years (from 1927 to 1952). Krishnamacharya asked him to transmit a method of original Yoga, called Yoga Korunta (known today as Ashtanga Yoga). Sri K. Pattabhi Jois taught Yoga in India from 1937, then later in the U.S.A and Europe. He received students from around the world to study this wonderful method of Yoga.
He was the founder-director of the Ashtanga Yoga Research Institute in Mysore in 1942. In 1946, he founded the Institute for Research on Ashtanga Yoga, where he experimented and developed the healing powers of Yoga. He was appointed Honorary Professor of Yoga at the Indian Government Medical College in Mysore, from 1976 to 1978.
Shri K. Pattabhi Jois was married with the delicious Savitramma, known as her diminutive Amma). She left us far too early in December 1997. She always wore a smile, offered comfort or had a blessing on her lips and she prepared an absolutely delicious coffee.
What is less well known is that she had also studied and practiced Yoga and sacred Shri T. Krishnamacharya texts. This is where she met Guruji. She was 14 when she was married, a marriage of love which was very rare at the time. They had three children, two boys and a girl (their eldest son Ramesh died in an accident on the Kaveri dam).
Manju, their son, teaches Yoga at Emanitas in California – U.S.A. Saraswati, their daughter still lives in Mysore, she is married to a professor and also teaches yoga.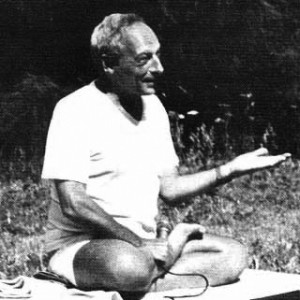 In 1964, André Van Lysbeth, the first European, came to study the Korunta Yoga at the Ashtanga Yoga Research Institute in Mysore with Guruji. André spoke about him and made him known through an article he published in the early review of the time "YOGA", which he edited.
Around 1972, Sri Pattabhi Jois received the first Americans after the "meeting" with Manju at the Gitananda ashram near Pondicherry (160 km south of Madras). The practice of Ashtanga Yoga spread in America from California, and extended later to Hawaii. In 1975, Guruji and Manju on their first tour spread the word about the practice of yoga. Since then, the practice of Ashtanga Yoga has spread worldwide.
Guruji passed on to the other side of existence on 18 May 2009 at 2:30pm in the afternoon (local Mysore time).   Guruji had taught continuously for 63 years this wonderful method that he had learned from his Guru Sri T. Krishnamacharya in 1927.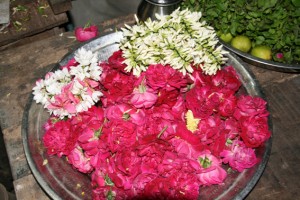 Om Loka Samasta Sukhino Bhavantu Om Shanti, Shanti, Shanti Om (Om, may all beings achieve peace and harmony, Om Shanti).
Today, his grandson Sharath Rangaswamy, the son of Sarasvati, is Director of the Institute. He was born in 1971. He is transmitting the Ashtanga Yoga he learned from his grandfather. Sharath is married to Shruthi and he is the happy father of two children, a charming little girl called Shradda (Dedication), and a son Sambhav (connected to the being or Manifestation of being).
The new Yoga course room "Yogashala" can be found :
Ashtanga Yoga Research Institute
235, 8th Cross
2nd Main, 3rd Stage
Gokulam, Mysore 570 002
Karnataka, India