The key point of the « garland of postures » (Yoga Mālā), taught by Sri K. Pattabhi Jois is called « Vinyasa ». It is described in the fourth śloka of the Yoga Korunta :
In Sankrit devanagrari :
« ट्री स्तनम् अवलोकय्é आसनम् प्राņआयाम द्रिस्थिहि »
In occidental characters :
« Trī stanam avalokayé āsanam prāņāyāma dristhihi »
That we can translate as:
The vinyāsa, the connecting movements between the postures, is composed of 3 fundamentals (Tristana) which are:
The breathing (Ujjãyi Prãnãyãma – the victorious breath)
The control of the pelvic floor and the abdominal ball (Mūla bandha),
The focused gaze (drishti) in the postures (āsana).
Each of these spaces (positioning -Bandha) is one of components of the breathing technique called « ujjāyī prāņāmāya ».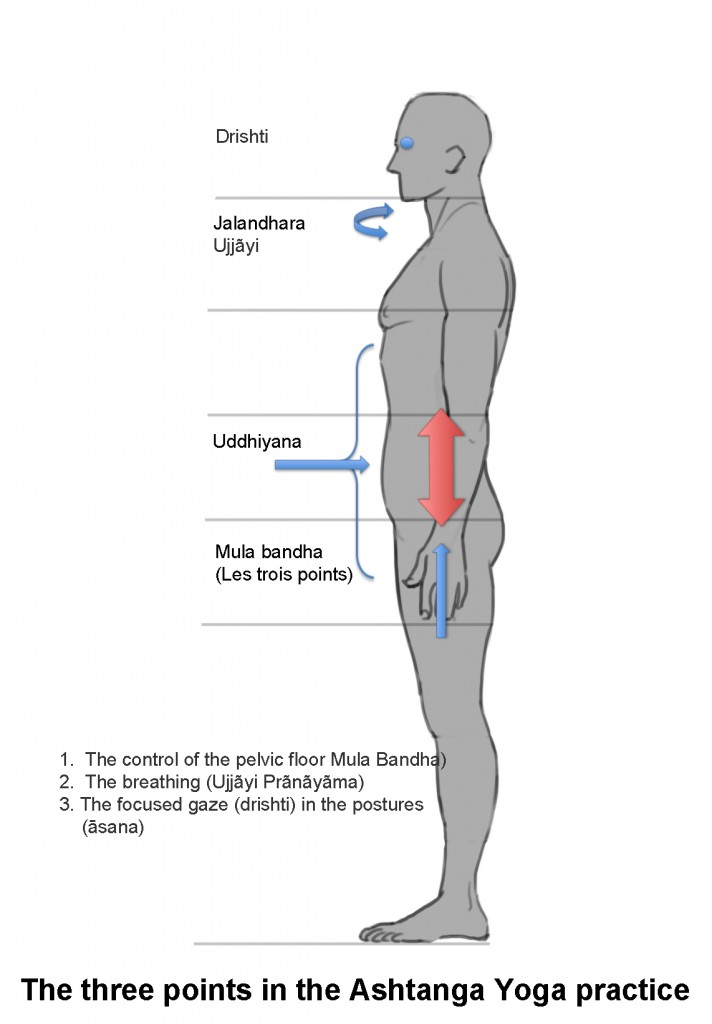 When the three components (Tristana) are in harmony, synchronised with the movement, the sequence of Yoga postures and its rhythm, the yogi has reached the tristana. Once the tristana is reached, the yogi (le sādhaka) enters into the seventh part of the Aṣṭāṅgayoga, the meditation (dhyāna).
The ujjāyī breathing is the basis of the « Vinyasa ». The correct body positioning in the ãsana(s), comes from the Bandha(s). Drishti completes this trinity.