There are many flights to Chennai (Madras) from the major European airports. India being one of the most visited countries in the world … book your flight early, and enjoy the many benefits that the practice of Ashtanga Yoga will bring you, let yourself be dazzled by the fabulous temples of Tamil Nadu, Mahābalipuram, Kanchipuram, Tiruvannāmalai, Pondicherry, Chidambaram, Darasuram, Tanjore, as by the profusion of details, the vibrant colours in the sanctuaries, where the stone contrasts with the radiance of the shimmering saris of Indian women.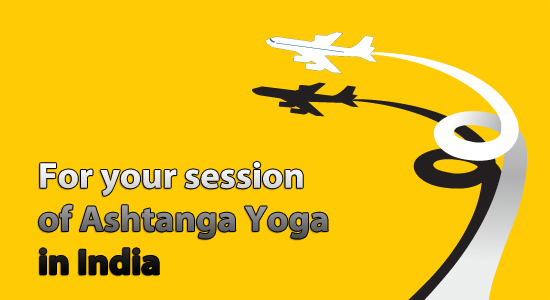 Flights : Whether it is a business trip or a holiday, many aviation companies propose an Internet registration service that allows you to reduce your waiting time at the counters of the airport.
Do not forget to register your « Miles » for a next trip to India. 
Travel agencies
In Brussels, we have had the pleasure of working for many years with « Welcome Travel » agency. They are very efficient and of good advice.
In Paris we recommend the agency « La Maison des Indes ». They favour intellectual and cultural curiosity. Phone: 01 56 81 38 38 (From Monday to Saturday from 10 :00 to 19 :00)
Airline companies
Lufthansa : German national airline company. Take advantage of their « discover the world » advantages. Lufthansa
Jet Airways : largest private Indian airline company. Their slogan is « The Joy of Flying ». Unfortunately they don't have any direct flights from Brussels to Chennai (Madras)
Jet Airways
Etihad Airways : book your flight to Chennai with the national United Arab Emirates airline company. You will enjoy an outstanding service for which their staff has received several awards, and arrive rested at destination. At your arrival, the sounds, the perfumes and the colours that enlighten every street of the city, will enliven your senses. Etihad 
Luggage 
International flights
Depending on the airline company, your luggage should not exceed 20kg to 30kg. You can buy or pre-book extra luggage weight before your departure (through the travel agency). Extra weight usually cost around 50$ per kilo.
Domestic flights
Indian companies allow up to 15kg. Please note they are very strict on the weight limitations. For any extra kilo they usually charge 5$. It is better to lock your main luggage. Your cabin luggage should not exceed 7 kg and 56 cm x 36 cm x 23 cm.
For domestic flights please avoid any instrument resembling a weapon, knife or even a nail file…
The Security (or safety) air
Be carefull : All batteries in devices must be charged (TSA). If your mobile phone, your tablet… are discharged, the boarding security service may think you are a terrorist carrying a bomb…
Control of airport security : 
Security checks are unfortunately necessary to travel by air, some passengers find them more annoying than anything else.
Here are some tips to make sure that everything goes as well as possible :
Remove all metal objects such as keys, mobile phones (charged battery), coins, wallet, belt if the loop is metal, etc. and place them in one of the available plastic bins.
Remove your coat, jacket, Sleeveless Jacket and place them, as well as your hand baggage, in one of the plastic bins.
Remove all liquids and gels from your hand luggage and place them in a separate bin. Don't forget that you are allowed to carry, only liquid containers and gels up to 100 ml maximum, in your hand baggage, sprays are prohibited.
Remove your laptop and tablet from your bag so that they can be analysed separately (battery charged).
Follow closely the instructions given by security personnel
And everything should go smoothly, with a smile…
Transfer :
Transfer from the international airport of Chennai (Madras) to your hotel in Mahābalipuram :
At night, by Taxi : the price should be around 1400 Roupies. The transfer takes about 1h20 at night.
During daytime: bus n°108 B. Unfortunately this bus is not very frequent.
If you prefer, we can organize a taxi to pick you up for the transfer between the airport and the hotel
Money
I advise you to take either :
Cash in Euros
Traveller's cheques, although these are not so convenient as you will lose time at the bank
Credit cards (American Express, Visa, Eurocard,..) are only accepted in large cities and big hotels. 
Exchange of currency in Roupies 
You can exchange currencies at the airport. Be careful, the Exchange service of « Thomas Cook » has a lower exchange rate than in Mahābalipuram. 
You have to show your passport for the transaction, and you must keep the « encashment certificate » which will allow you to exchange your leftover rupees when you leave the country. Bankcards can be used in big hotels and shops in urban centres. Traveller's cheques in Euros can easily be changed in banks. You can only take cash out of your account in large cities either from the banks (takes a long time) or from automatic withdrawal counters marked "ATM". There are now two "ATM" counters in Mahābalipuram. When you leave the big cities or centres, please make sure you have enough rupees or euros and preferably in small bills as it can be difficult to find change. 
The exchange rates are relatively stable. You can check following website to have the recent exchange rates : Oanda 
Water
Never drink tap water ! The water is not always potable. 
Electricity
220 Volt is common in India. It is nevertheless advisable to always check the voltage before connecting a device. It can be very useful to bring a flashlight/torch, in case of a blackout (this is frequent) and it is useful for visiting caves and temples. 
Time zone
Summer time : + 03.30 h GMT
Winter time : + 04.30 h GMT
 Bibliography/reading list
We have prepared a reading list for travel guides to India, novels, and history books.
Lonely planet :
Travel guide: guide book of the South of India and Kerala – a complete guide covering all regions from South India: Mumbai (Bombay), Maharashtra, Karnataka and Bengaluru (Bangalore), the Andhra Pradesh, Tamil Nadu and Chennai (Madras), Kerala and the Andaman islands, and Odisha (Orissa)
Discover India
Hachette
Guide Voir: India per region, illustrated maps, detailed advice on visits, excursion proposals. Clever 3D maps of cities so you can better prepare your visits to Delhi, Jaipur, Pondicherry, Calcutta, or Bombay…
India Attitudes: small guide on customs and traditions
Le Routard
South India: trace your own route
Guide Bleu 
South India : an in depth discovery of the South of India in 4 chapters, illustrated maps, a small dictionary and bibliography 
Some books about India
"Once you have felt the Indian dust you will never be free of it"
Rumer Godden
« De Gandhi à Bollywood », test your knowledge, by Fédéric Testu, Editions Ellipses
« Histoire de l'Inde », by Alain Daniélou, édition Fayard
« Inde »: history, religion, traveller's life, by Rainer Krack, Pages du monde 
You can find the latest publications on http://www.indeenlivres.com 
Language
English is widely spoken in the cities of India. India has hundreds of dialects and 18 officially recognized languages. The difference between the Indo-European spoken in the north and the Dravidian languages used in South India provides that English is an essential means of communication between the people of the north and south.
Cellular phone
Most of the foreign providers offer mobile Internet access (roaming) in India, but the rates are high.
Important advice
Remember that apart from the beauty and wealth of this country, India is and will remain India. It is advisable to look on the bright side to enjoy your stay at the fullest.
Additional information
Visa
Find a hotel in Mahabalipuram
Indian cuisine
Photos of India
Heath care
How to dress