Travelling in the North of India to spread the science of Yoga for the treatment of various ailments, Sri T. Krishnamacharya – thanks to the patronage of the Maharajah of Mysore (well known for his philanthropy and spiritual faith) – discovered by chance, in the 1930s, in the university Library of Calcutta, an ancient manuscript written on palm leaves and entitled "Yoga Korunta". The author, a sage of ancient times, called himself "Vanama". Composed between 500 and 1500 BC, the document was excellently preserved. Also a specialist in ancient Sanskrit, Sri T. Krishnamacharya understood from the turn of certain phrases that it was part of a much older oral tradition (between 3000 and 4000 years BC).
Following this discovery, Sri T. Krishnamacharya, who taught a different method of yoga, altered his teaching for the third time. He asked Sri K. Pattabhi Jois to devote himself exclusively to this method of original Yoga, called Yoga Korunta, and to pass it on.
From 1937 onwards, Pattabhi taught Yoga Korunta in Mysore, India.
Only in the late 1960s, André Van Lysebeth, the first teacher of European yoga, spends three months to study Yoga in India with Pattabhi.
André speaks of him and the quality of his training and popularizes him by publishing laudatory articles in the paper « YOGA » which he edits.
Around 1973, Americans participate in the demonstration of yoga by Manju (Pattabhi's son) in the ashram of Gitānanda (near Pondicherry). Thus Norman Allen became a pupil of Pattabhi or Guruji, as his disciples call him, later Nancy Gilgoff and David Williams came.
Pattabhi chose to use the term "Ashtanga" for his school in reference to one of the six points of view of orthodox Indian philosophy, i.e. Yoga. The other points of view are: Nyāya, Vaisheshika, Sāṃkhya, Mîmâmsâ, Vedānta.
The bible of Yoga, written by Patañjali, is "The Yoga Sūtra" (a kind of synthesis of all the preceding knowledge).
In the second chapter of this book, at verse (YS II-29) the foundations of the practice of yoga are being explained, the definition of which is "aṣṭāṅga yoga". Thus, all the spiritual techniques referring to this book can be called aṣṭāṅga yoga.
This way the name of "Yoga Korunta" was changed to "Ashtanga Yoga". Actually, the institute of Pattabhi was called "Ashtanga Yoga Research Institute of Mysore", which made the American students think that he taught a kind of Yoga called "Ashtanga Yoga".
In 1975, Nancy Gilgoff and David Williams invited Guruji and his son Manju, who thus set off on their first voyage to America in order to teach yoga. Manju stayed in the United States. This practice of Yoga spread rapidly throughout America from California, extending up to Hawaii, under the name of Ashtanga Yoga.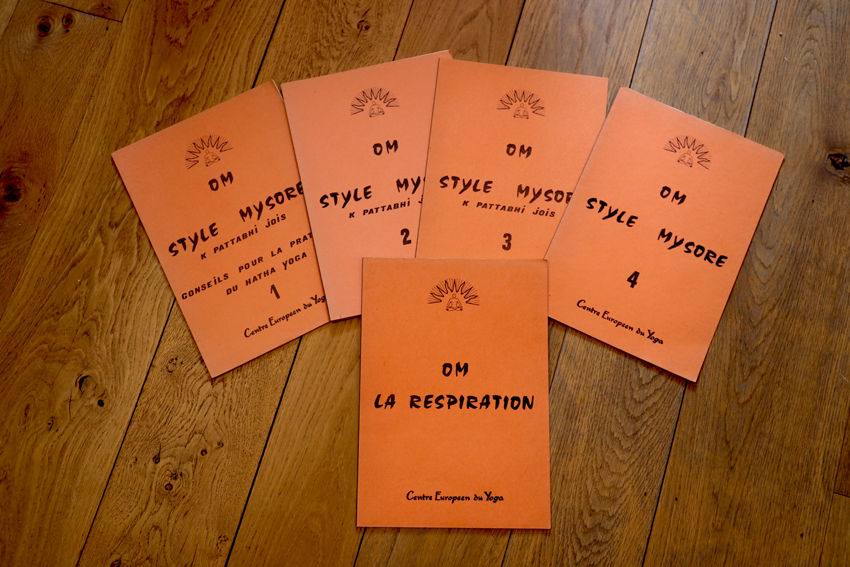 In Europe, the first teachers to spread this method were called Jean-Pierre Radhu (Belgium), Gabriel Plessis (Paris, Rouen – 1972). With the permission of Guruji, Jean Bernard Rishi in Paris (France 1975) published leaflets on the sun salutations of Mysore and the standing postures (photos of Pattabhi in black and white). Having taught Ashtanga Yoga for several years, they all changed their methods of different reasons. Later, Jean Claude Garnier (France, Belgium – 1978) and Serge Fonteneau (France, Château Renauld) embraced the teachings of Pattabhi and have made it their business to disseminate them.
Today, this traditional form of Yoga, mainly known under the name of Ashtanga Yoga, is one of the most practiced worldwide.
Sharath Rangaswamy, the grandson of Sri K. Pattabhi Jois, teaches the Ashtanga Yoga he has learnt from his grandfather.
For further reading :
Yoga Mala – Sri K. Pattabhi Jois (paperback)
Ashtanga Yoga – John Scott (Le courrier du livre).
Ashtanga Yoga – Le Guide Pratique: Un Guide Illustré Destiné à une Pratique Personnelle, Première et Deuxième… de David Swenson