First of all, don't worry; it is possible to live on your passion.
It is possible to love all dimensions of your work, including the accounting aspect.
You will probably not work as an employee; most Yoga teachers are self-employed. This means you will need to pay your own social security charges (insurance, pension etc.). If you don't teach any classes you will not have any cash inflow, but the basic costs will still be present. When you go on vacation you will not have paid leave. Therefore, you will need to plan … Each day will be different, some days you will have 10 students in your class, but other days you will have only 2. Sometimes your class may be cancelled because you will have no students showing up.
Your monthly income will depend on your hourly rate. The minimum hourly rate should be around 30€-35€, regardless of how many students you have in class. You are free to set your price based on group classes, private classes, and at home classes.
Check the rates usual in the area where you wish to exercise, so you can adapt to the "market".
As an example, when you get 100 €, you will keep 40 € after deduction of all costs.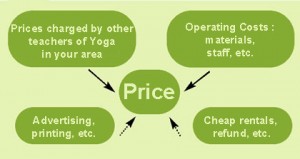 Don't forget to calculate your running costs. For example, if you work in a cultural centre, your running costs will be very low (you will only have travel expenses). If you exercise in your own space, you will have more operating costs (heating, water, rental fee, electricity, toilet paper, carpets, cleaning fee, etc.). Good management is absolutely necessary.
Do not be afraid of the bureaucratic aspect, once organized; it is a genuine area of ​​freedom.
Fees for group classes (1h30)
| | | | | |
| --- | --- | --- | --- | --- |
| 2014 | | Test Class | 10 class card/group | Yoga mat rental |
| | Paris | 25€ | 200€ | 2€ |
| | Brussels | 20€ | 130€ | Free |
| | Province | Free or 5 € | 100€ | Free |
 Yoga Teacher salary
The salary of a beginning yoga teacher (as an employee) is based on the guaranteed minimum wage; add 20% for the transport costs.
How to determine commute/travel expenses
The price will depend on the means of transport :
Public transport: cost of transport tickets, keep them carefully
Bicycle: purchase of the bicycle, depreciation, and tire wear, maintenance costs, …
Motorbike: purchase of the motorbike, depreciation costs, tire wear, maintenance, insurance, …
Car: purchase of the car, depreciation, tire wear, maintenance cost, insurance, …
Don't forget to count travel time …
The tax services issue information about acceptable transport costs, etc.