Auroville, the "the city of Aurora", was conceived by "The Mother" as a place for a universal community life, where men and women would learn to live in peace, in perfect harmony, beyond all beliefs, political affiliations and nationalities".
To-day around 1.600 inhabitants, from some thirty countries, live in this utopian and mystic place. In its centre stands the Matrimandir, the soul of Auroville. Inside there is a room coated with white marble, in which a huge solid crystal (70 cm diameter), the biggest in the world, is exhibited. It is devoted to meditation.
On January 20th 2009, His Holiness the 14th Dalai Lama, Tenzin Gyatso, inaugurated the Tibetan Pavilion. The architect drew inspiration from the Kalachakra Mandala plans.
Staying a few days in Auroville, walking around and meditating in the Matrimandir, are wonderful experiences.
For this experience, you must obtain a pass from the reception of the Visitor Center to visit the Matrimandir and the gardens surrounding it. It is also necessary to have another ''pass'' for a session of meditation to the Matrimandir. A shady trail, 2 km from the Centre of the Matrimandir visitors.
Timetables for the "pass" to the visitors Centre
 
Morning
Afternoon
Week
9h30 to 13h
13h30 to 16h00
Sunday
9h30 to 13h
Close
 
Opening hours of the Matrimandir visitors
 
Matin
Afternoon
Week
9h30 to 13h30
14h00 to 16h30
Sunday
9h30 to 13h00
Close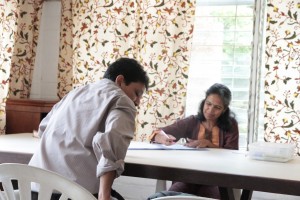 Auroville is located 6 km north of Pondicherry which lies 100 km from Mahābalipuram.
It takes 01.45 hours by car and 2 hours by bus to go to Pondicherry, around 100 km from Mahābalipuram.