Share the post "Workshop, Ashtanga Yoga Teacher Training in Andros Island, Greece, Holidays Easter 2021 from 26 April to 8 may"
Teacher : Jean-Claude
Level : all levels
Date/Time
Date(s) - 26/04/2021 - 08/05/2021
07:30 to 15:30
Karanasos Hotel
Batsi
Andros Island - Greece
Andros
 Welcome to Andros Island, our two hosts Sophie & Dimitri will have the pleasure of meeting you at Hotel Karanasos, with a different shade of colour that is renewed every year.
Everything starts here….. new experiences are waiting for you……
Ashtanga yoga every morning followed by the flavours of organic foods, prepared with love by Sophie, reinvented every day ……
With the sea waves, the bleu sky, islands in the sun and ideal weather with beautiful landscapes, an exceptional heritage and still living traditions, Andros Island has many possibilities that will charm you.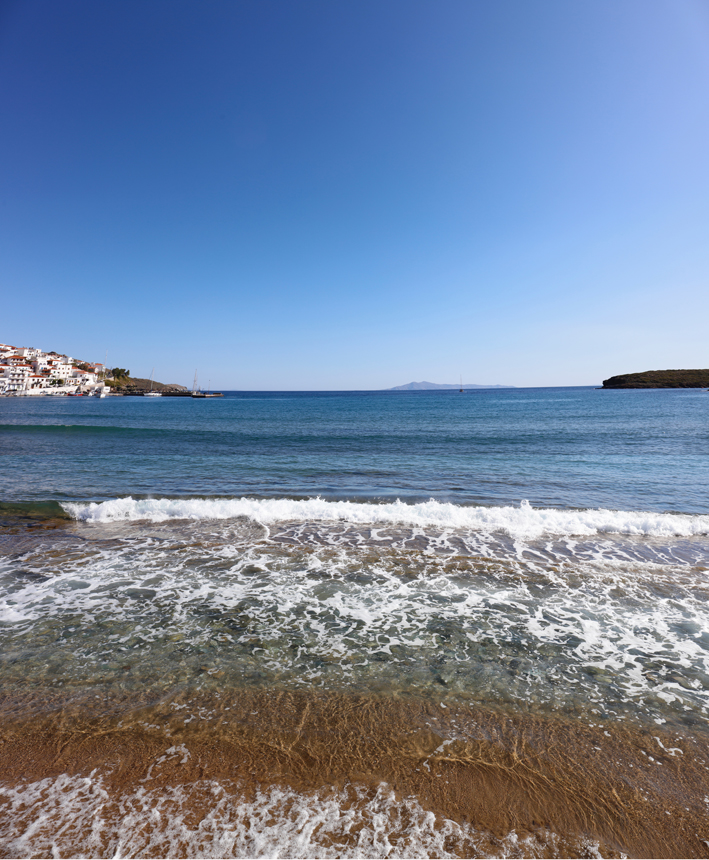 Welcome to Andros Island
Your two hosts Sophie & Dimitri
Will have the pleasure of welcoming you
At Karanasos Hotel, with a new
Shade of color, every year
Renewed.
Everything starts here …
New experiences are waiting for you …
Ashtanga Yoga every morning then,
The flavors of organic foods,
Prepared with love by Sophie
Who every day reinvents herself …

Like the waves of the sea to the blue of the islands
Sun and an ideal climate
With beautiful landscapes,
An exceptional heritage
And still alive traditions
The island of Andros will captivate you !

Come follow the Ashtanga Yoga Teacher Training (Sri K. Pattabhi Jois – Yoga Korunta), transmit by Jean Claude Garnier to the island of Andros in Greece, in a natural site rich in vibration. A seminar, in Greece it is reconnect with its mythological inner wealth.
Apollo – the eternal Fire, Athos – the Earth and Poseidon – the Water! a fight of Giants within ourselves. It is also returning to the "love of knowledge" or "love of wisdom", ancient discipline that originated in India, which raises the questions and develops the thinking about the world and human existence, codified by Patanjali in Yoga Sūtra (Yogasutra) during the second century BC.
This is also the famous "mantra" of the anchorites of Mount Athos, prayer of Jesus, prayer of the Pilgrim, that is to say the « sādhaka (Sanskrit: साधक) » of the one looking for himself. "Lord have mercy on me, Christ have mercy on me" in Greek "Kyrie Eleison", that is "Lord, have mercy." This constant repetition leads to peace of soul, a state in which the heart of the practitioner is in contact, in fusion with the Divine
Harmony of the session
Working together to learn or to deepen Yoga Mala, the garland of postures as taught by Sri K. Pattabhi Jois and thereby promoting, listening, meeting, knowing and integrating with oneself!
You practice according to your ease either the first or the second.
Schedule :
This session allows individual attention, with detailed instructions and specific adjustments given by your teacher.
This workshop is open to everyone, beginner, advanced and teacher.
Apart from the training of teacher of Yoga certifying, you have the opportunity to participate in the teacher training as a free listener.
Schedule :
Conduct of academic course
Introductory song
A time for "Questions & Answers, sharing your experiences," on theory and practice
Then come the theoretical lessons depending on the unit
The certified training (2 weeks)
If the experience of a personal practice is obviously necessary to access a Yoga Teacher Training, it is the motivation to teach that is the most important to transmit this art.
In Greece, you will approach the various practical and theoretical aspects of Ashtanga Yoga. You will improve your practice, your theoretical and pedagogical knowledge.
This year, the yoga teacher training is open to all (first module of five).
The training module is for
People practicing yoga, wishing to gain greater self-knowledge to achieve a better balance of body and mind.
Future teachers, who wish to give yoga classes in all European communities (commitment to a course of at least 5 units)
Teachers continuing their training so as to move to a higher grade
For all the others, please contact us (an interview is required)
The training includes several study subjects
The various currents of Yoga
The historical, religious and philosophical aspects
The body anatomy
The psychology of the soul
To learn more about the course content and the TRAINING of Ashtanga yoga
Free auditor training (one week or two weeks)
What the training brings to you, what is addressed, why come  ?
This option can be followed for the purpose of personal development, to gain greater self-knowledge and therefore a better body and mind balance.
This module is intended for :
Persons who practice yoga on a regular basis or agree to establish a regular personal practice (for at least the entire session).
Already trained teachers, who wish to expand their practical, theoretical and pedagogical knowledge and improve them.
As a free auditor, the student does not present a professor exam, or a dissertation summarizing his study of Ashtanga Yoga.
Graduated teachers will receive a certificate of recycling and deepening of Yoga.
PRACTICAL INFO
If you are a beginner you will discover the basics, if you are advanced you will deepen the rhythm, the Vinyasa, Mula Bandha, and uddiyana Ujjayi. If you are a teacher you will see how to help students.
To participate in a certified training module, you must provide a certificate of attendance issued by your current Yoga teacher attesting regular participation in weekly class for at least 2 years.
At the end of this unit we will issue a "Certificate of Participation", to enable you to access a higher level.
You must have participated in at least 5 modules and written a dissertation on an aspect of Yoga in order to obtain a Diploma of Yoga Teacher.
Pictures of the Yoga room in Andros Island
Please bring your own equipment (mats, straps, blocks, etc.).

You'll be wonderfully hosted by Sophia and Dimitri at the Hotel Karanasos.
Training modules of yoga teachers are also given in Belgium and India.
Booking :
For registration, accommodation and prices of the orthodox Easter session Yoga Teacher Training at Andros island,
Contact SOPHIE :
sofskourti@gmail.com
00 30-69 36 71 33 10